About Nancy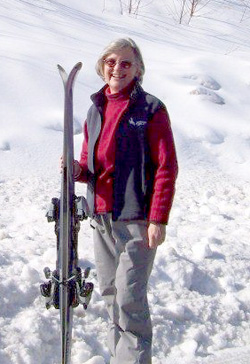 The most memorable hours of my childhood summers on a Maine lake were spent reading books in a hammock by the lakeshore, and listening from my bed on a screened porch to the magical calls of loons on the lake. My interest in writing grew from love of the written word. My regard for all things wild evolved from love of loons.
Maine was my birthplace and childhood home. Later, I resided in New Hampshire, Massachusetts and Alaska, finally returning to my home state to build a home on a lake and raise a family.
I have worn a variety of occupational "hats" that include having coached a championship high school gymnastics team, working in a dental office, and teaching public school students in Massachusetts and Maine. Throughout my adult life my passions have been educating children and advocating for nature and wildlife. As a founding member and director of area non-profit organizations I have been involved in efforts to protect lake water quality and in conservation of natural resources through land acquisition and stewardship.
Love of nature has motivated me to write a book about a child learning about loons, which may inspire children of all ages to care about our natural heritage. I have been blessed with the opportunity to share it in classrooms.
The publication of Libby's Loons has achieved my aspiration to honor the words of naturalist and champion for preservation of the Maine wilderness, Henry David Thoreau, who wrote:
"In wildness is the preservation of the world."